Policy Contact:
Secretary, Learning Teaching and Research Committee
Background:
Course structure must comply with the AQF by January 1, 2015.
Purpose:
This policy defines Course Structures in alignment with the Australian Qualifications Framework (AQF).
Scope:
Learning, Teaching and Research Committee - must ensure the Policy is implemented in the Learning, Teaching and Research Plan.
Program and discipline co-ordinators - ensure the policy is adhered to when Course Reviews are undertaken or major or minor changes suggested.
Statement:
Course Structure Alignment with the AQF
This policy has been drawn in part from a document produced by Uni SA in September, 2012. (Archive copy link) [1]
Undergraduate Model
The following model for undergraduate course structures is in compliance with the AQF requirements.
Summary: at least 75% of the final year content of an award must be at the AQF level of the qualification.
Diploma
At least 75% of Diploma content must be at AQF 5 (Introductory Units)
Associate Degree
At least 75% of final year must be at AQF 6 (Intermediate Units)
Bachelor Degree
At least 75% of final year must be at AQF 7 (Advanced Units)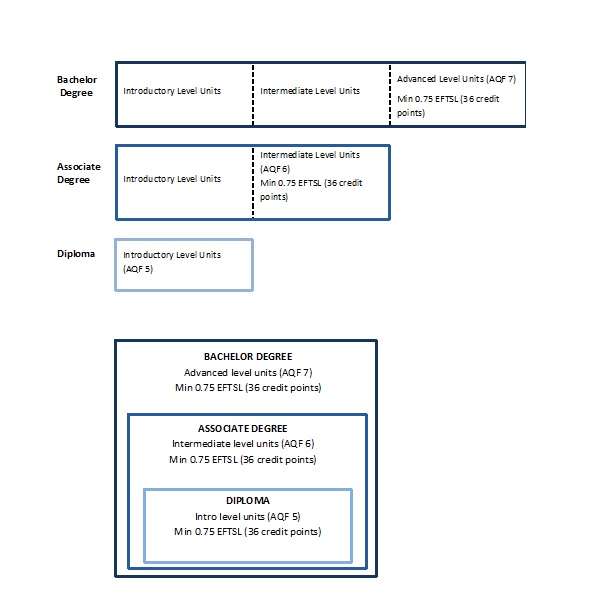 Graduate Model
Summary: All of the Graduate Certificate and Graduate Diploma at AQF 8